Please refer to the instruction manual for this tool and read the Risk assessment below.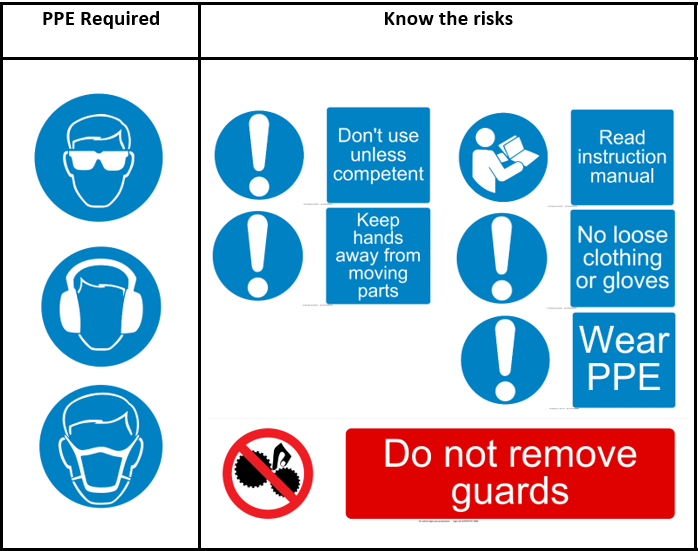 Date of Assessment
28/1/2023
Version
1.0
Activity
Grinding using hand angle grinders
Equipment
Handheld angle grinders
Details of activity
Induction / Role Required
Form completed by
James Bruton
This risk assessment is intended to provide guidance on the risk associated with the above equipment and activities in normal use.
Please also check general risk assessments for the area within which this equipment or activity is based.
Any discrepancies, errors or concerns should be raised with the document authors, area specialists (e.g. admins, superusers) or trustees.
Understanding Risk Rating:
| | |
| --- | --- |
| Risk Rating | Action |
| LOW | Ensure current control measures are in place and continue with activity |
| MED | Control measures may be adequate, co-supervision is recommended |
| HIGH | Do not undertake activity without further consultation with area specialists |
Risk assessment:
| | | | | | |
| --- | --- | --- | --- | --- | --- |
| Identify Hazards | Who may be harmed and how | Severity | Control Measures | Likelihood | Risk Rating |
| Something with the potential to cause harm | Users, bystanders or particular at risk groups | Low / Medium / High | What is in place to reduce the harm or likelihood. | Low / Medium / High | Calculate from table above |
| General Power Tool Handing | Users, bystanders | High | Members are competent to carry out work. Tools and cables are visually inspected before use. Damaged tools are withdrawn from service for repair or replacement. All members will wear personal protective equipment as specified for the task. Specified Eye protection must be worn at all times when carrying out this activity. | Medium | Medium |
| Hot work | Users, bystanders | High | It should be ensured that there is no combustible material in close proximity to the work. Suitable protection should be provided for any combustible items that cannot be moved and for combustible construction such as wooden worktops. A check should be carried out on all of the surrounding areas to minimise the possibility of ignition by heat transfer. Powder extinguishers are provided at the space. Hot work should be stopped a reasonable time before leaving the space. A thorough inspection of the area should be undertaken once the work is complete after completion. Where necessary, a further check should be carried out before leaving the space. | Medium | Medium |
| Flying debris | Users, bystanders | High | Members are competent to operate the angle grinder and will wear safety goggles provided when grinding. Where necessary, suitable screens must be positioned to protect others from flying debris. | Medium | Medium |
| Waste management | Users, bystanders | Medium | Grinding debris will be segregated, where possible, by starting with a clear collection area and clearing on completion. Metal debris will be hot and should be directed into a suitable fire-resistant containment bin. | Medium | Low |
| Workpiece movement | Users, bystanders | Medium | The workpiece must be suitably positioned at a comfortable working height. It must be secured in place to prevent movement by grinding pressure or vibration | Medium | Low |
| Noise / Vibration | Users, bystanders | Medium | Members are provided with and wear suitable hearing protection when using the angle grinder. They will also comply when working in designated hearing protection zones. Minimise the time members are exposed to vibration i.e. members should take breaks during long jobs. | Medium | Low |