The process for getting the CNC induction
Become a member of So Make It.
Request CNC Induction on Slack in the #cnc-cutters channel
Wait for contact from a volunteer CNC super user who will arrange to carry out the induction.
There is a £10 upfront fee for the CNC Induction. This allows us to build up a war chest of funds for inevitable part replacement in the future.
Various manuals provided by the manufacturer and inductions notes can be found here.
Please read the Risk Assessment below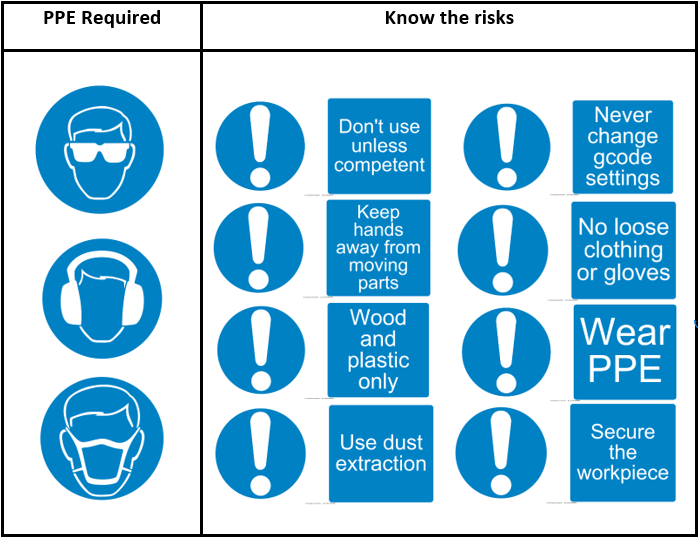 Date of Assessment
01/10/2021
Version
1.0
Activity
Cutting wood and plastic on the CNC router
Equipment
Style CNC 6090
Details of activity
Induction / Role Required
Training Required
Form completed by
Chris Nash
This risk assessment is intended to provide guidance on the risk associated with the above equipment and activities in normal use.
Please also check general risk assessments for the area within which this equipment or activity is based.
Any discrepancies, errors or concerns should be raised with the document authors, area specialists (e.g. admins, superusers) or trustees.
Understanding Risk Rating:
| | |
| --- | --- |
| Risk Rating | Action |
| LOW | Ensure current control measures are in place and continue with activity |
| MED | Control measures may be adequate, co-supervision is recommended |
| HIGH | Do not undertake activity without further consultation with area specialists |
Risk Assessment
| | | | | | |
| --- | --- | --- | --- | --- | --- |
| Identify Hazards | Who may be harmed and how | Severity | Control Measures | Likelihood | Risk Rating |
| Something with the potential to cause harm | Users, bystanders or particular at risk groups | Low / Medium / High | What is in place to reduce the harm or likelihood. | Low / Medium / High | |
| Incompetent user | User, Bystander | HIGH | Users must not use tools that they are not competent to use.   Members must challenge use that they believe is dangerous.   All members must request training for a tool via the members area or other communication channels if they have little or no experience of using it.   Users must read the risk assessment before using a tool.   Users must complete induction before use. | LOW | MED |
| Contact with router bit | User | HIGH | Do not touch moving parts of machine once in use Do not put hands into exclusion zone (within 30cm of router bit). CNC should be switched off immediately after use Spindle should stop within 10 seconds of being turned off. | LOW         | MED |
| Ejection of workpiece (Kickback) | User of the tool, users of the room, the space. | HIGH | Check that material to be cut is fixed securely to the bed before switching the machine on. Take particular care when working with smaller pieces of material to ensure the material will not move. Use tabs on your design file whenever you are cutting through material completely. | LOW | MED |
| Dust (inhalation, fire, explosion) | User of the tool, users of the room, the space. | LOW | The CNC should be used with the dust extractor attached and working. A respirator or mask should be used whilst operating this tool for prolonged periods | LOW | LOW |
| Blade snatching or jamming | User of the tool, users of the room, the space. | LOW | Do not exceed the recommended feed and speed settings on the CNC Do not exceed recommended cutting depths Make sure that your material is free from foreign objects. Do not make a cut that exceeds your material depth. | LOW | LOW |
| Noise | User of the tool, users of the room. | LOW | Ear protection is advised. | LOW | LOW |
| Flying splinters or broken router bit | User of the tool, users of the room. | MED | Eye protection must be worn whilst using the CNC Eye protection must be worn by all users of the workshop. Do not exceed the recommended feed and speed settings on the CNC Do not exceed recommended cutting depths Make sure that your material is free from foreign objects. Do not make a cut that exceeds your material depth. | LOW | LOW |